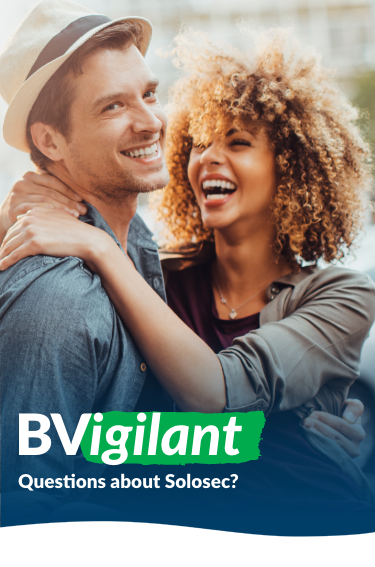 Frequently Asked Questions

How often do I take Solosec?
Solosec is a single oral-dose treatment, so you only need to take one packet, one time to complete treatment. Long term use of Solosec should be avoided.1

Will Solosec be covered by my insurance?
Solosec is covered by most major insurance providers. If you are unsure of your coverage, please ask your insurance company.

Are there any options to make Solosec more affordable?
Solosec offers a co-pay savings card to help eligible patients save at the pharmacy. If you have insurance, the card may lower your co-pay to $25. Visit the
co-pay card
page for more information, including terms and conditions.

Do I have to take Solosec at a certain time of day?
Solosec can be taken at any time of day, without regard to the timing of meals.1

Can I mix Solosec with liquids?
Solosec does not dissolve in water or any liquids. It should not be mixed into liquids and should only be taken with the recommended foods: applesauce, pudding, or yogurt.1

Do I need to avoid alcohol or other foods while being treated with Solosec?
There is no specific food or alcohol restriction while being treated with Solosec.1 Laboratory studies show Solosec does not inhibit the enzyme that processes alcohol in your body.1

Will it affect the efficacy of my birth control? Do I need to use a backup method?
Solosec was tested not to interfere with a common birth control pill.1*
*No significant drug interactions with the combination oral contraceptive (ethinyl estradiol plus norethindrone).

Can I take Solosec if I'm pregnant or breastfeeding?
If you are pregnant or plan to become pregnant, talk to your doctor before taking Solosec. Solosec may pass into breast milk. Patients should discontinue breastfeeding for 96 hours (4 days) after taking Solosec.1

Are there any side effects?
SOLOSEC can cause side effects including vaginal yeast infections. Symptoms of a vaginal yeast infection include white or yellowish discharge (discharge may be lumpy or look like cottage cheese) and vaginal itching.
1
The most common side effects of SOLOSEC include headache, nausea, vomiting, diarrhea, abdominal pain, and vaginal itching and a bad, bitter or metallic taste in your mouth (dysgeusia).
1
These are not all of the side effects of SOLOSEC. Call your doctor for medical advice about side effects. You may report side effects to the FDA at
www.fda.gov/MedWatch
also at 1-800-FDA-1088.

How do I know if Solosec is right for me?
You shouldn't use Solosec if you've had an allergic reaction to secnidazole or other nitroimidazole derivatives.1

How is Solosec different from other antibiotic treatments for BV?
Solosec is the only single oral dose medication for BV.
1
It does not require multiple days of pills or creams or gels that have to be inserted into your vagina like other BV medications.
2
Learn more about Solosec.




E-mail Program Terms & Conditions: By agreeing to the terms of SOLOSEC® E-mail, you consent to receive e-mail messages on behalf of Lupin. Consent is not a condition of purchase or use of any Lupin product or service.
Data obtained from you in connection with your registration for, and use of, the E-mail Program may include your e-mail address and elements of pharmacy claim information, such as name, date of birth, and prescription information. You agree that such data may be used to administer the E-mail Program and to provide E-mail Program benefits such as savings offers, information about your prescription, including refill reminders and new prescription requests, as well as E-mail Program updates and alerts sent directly to your e-mail address.
You may unsubscribe from the E-mail Program at any time by clicking on the unsubscribe link at the bottom of any E-Mail Program e-mail. Please do not reply to E-mail Program e-mails as it is an unattended e-mail box. A link to contact Lupin is at the bottom of every E-mail Program e-mail. Lupin reserves the right to rescind, revoke, or amend the E-mail Program without notice. Any revision, modification, or amendment to these terms shall take effect when they are posted. You agree to review these terms periodically to ensure that you are aware of any changes.
Privacy Statement: Lupin understands your personal and health information is private. Read more about Lupin's Privacy Policy
SUCCESS!
We've received your information. We'll be in touch soon. In the meantime, learn how you may save on Solosec® (secnidazole).
References: 1. SOLOSEC [prescribing information]. Baltimore, MD: Lupin Pharmaceuticals, Inc; 2017. 2. American College of Obstetricians and Gynecologists. ACOG Practice Bulletin: Clinical Management Guidelines for Obstetricians-Gynecologists, Number 215. Obstet Gynecol 2020:135(1):e1-e17.
What is SOLOSEC?
SOLOSEC® (secnidazole) 2g oral granules is a prescription medicine used to treat bacterial vaginosis in adult women.
How should I take SOLOSEC?
SOLOSEC is a single-dose therapy for oral use. Use SOLOSEC by sprinkling an entire packet of SOLOSEC onto applesauce, yogurt, or pudding. The entire dose should be taken at once, and finished within 30 minutes. Avoid chewing or crunching the granules. SOLOSEC should not be taken by dissolving the granules in any liquid.
Important Safety Information
You should not use SOLOSEC if you've had an allergic reaction to secnidazole, other ingredients of the formulation, or other nitroimidazole derivatives.

Before taking SOLOSEC, tell your healthcare provider about all of your medical conditions, including if you

Are pregnant or plan to become pregnant.

Are breastfeeding or plan to breastfeed. Breastfeeding is not recommended. You should not breastfeed for 96 hours

(4 days)

after taking SOLOSEC.

Vaginal yeast infections may occur with SOLOSEC and require an antifungal treatment

Take SOLOSEC exactly as your healthcare provider tells you to. Do not take SOLOSEC more often than it is prescribed.

The most common side effects of SOLOSEC include yeast infection, headache, nausea, altered taste, vomiting, diarrhea, abdominal pain, and vaginal itching.
Call your doctor for medical advice on side effects. You are encouraged to report suspected side effects of prescription drugs to FDA at www.fda.gov/MedWatch also at 1-800-FDA-1088 or contact Lupin Pharmaceuticals, Inc. at 1-844-SOLOSEC (1-844-765-6732).