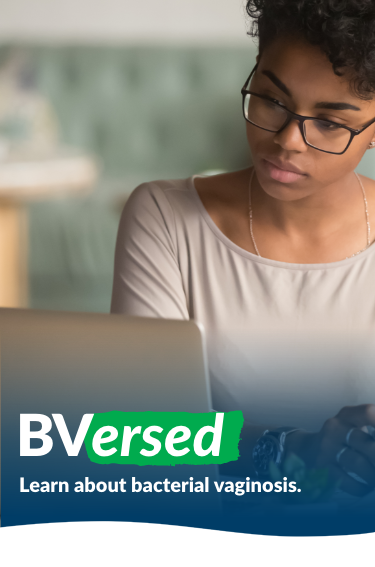 About Bacterial Vaginosis (BV)
What is BV?
Even if you've never heard of BV, you probably know plenty of women who've dealt with it—maybe even more than once.1 In fact, BV is the most common cause of vaginal symptoms like odor and discharge.2
BV is bacterial, which means it's treated by antibiotic medications which are only available by a prescription from a healthcare professional (HCP).2 It is not the same thing as a yeast infection, so over the counter anti-fungal medicines that are meant to treat yeast infections won't work for BV.3
While women with BV don't always have symptoms, you may notice common BV signs and symptoms like2:
A thin white or gray discharge from your vagina (the most common symptom)1,4
A fishy vaginal odor that can be unpleasant, especially after you have sex1,2,4
Itching in or around your vagina1
How many women have BV?
If you have BV, you're not alone.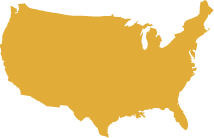 It's estimated that
OVER 21 MILLION
U.S. women have BV every year1

That's nearly
30%
of American women1
---
African American and Mexican American women are more likely to suffer from BV1:
African American women: 51%
Mexican American women: 32%

What causes BV?
BV is an infection caused by an overgrowth of "bad" bacteria that naturally occur in the vagina.1,6 Your vagina is its own little ecosystem, and BV happens when the balance of that ecosystem gets messed up.7
Here's how BV develops in the body:
BV is caused by an overgrowth of "bad" bacteria in the vagina.1 Your vagina contains "good" bacteria called lactobacilli that help keep you in balance and keep the vagina at a healthy pH (ideally between 3.5 and 4.5). When balance is disrupted in some way (by sex, douching, or other factors), "bad" bacteria can overwhelm the "good", raising pH and leading to BV.2-4,7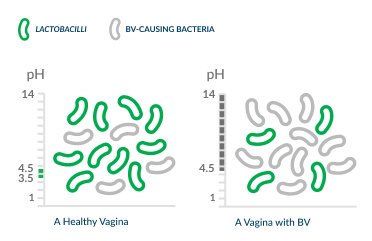 Some factors can make you more likely to develop BV:


Douching1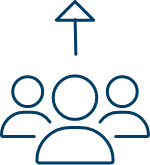 A Higher Number of Lifetime Sexual Partners1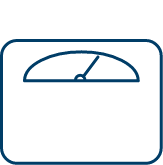 Overweight or Obese Body Mass Index (BMI)8


Being Sexually Active1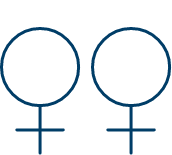 Same-Sex Sexual Activity1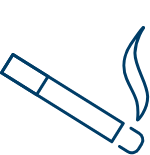 Smoking1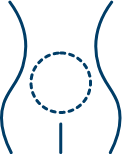 Having been pregnant in the past1
How can I lower my risk of BV?
It's possible to have BV even if you're not sexually active and don't have any common risk factors.1 That being said, the following healthy habits may lower your risk: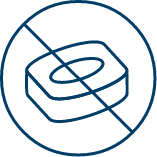 Don't douche or use heavily scented soaps around your vagina. Sorry ladies, but bubble baths are a no-no.1,7


Use condoms with male sexual partners.1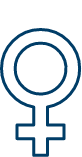 Avoid sexual activity with female partners when they have BV.1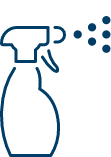 Thoroughly clean sex toys, especially if sharing with a female partner.1
And remember, if you're unsure or have questions about your feminine health, see a healthcare professional with your concerns, and get tested!
What if my BV comes back?
Unfortunately, BV often has a sequel.9

of women are likely to experience a recurrence of BV within a year of being successfully treated with antibiotics.9
If you're having symptoms of BV again, you should speak to your HCP.
If you were treated for BV in the past, you may have been instructed to take a course of pills over several days.10 Research has shown that as many as 50% of women don't end up taking the 7-day, twice-daily course of pills as directed.11
Otherwise, you may have had to take gels or creams that were inserted vaginally.10 Thanks to gravity, you were probably instructed to take some of these at bedtime.12,13
Fortunately, there's another option for treating your BV that lets you complete treatment with just one oral dose, at any time of the day14: Solosec.

Why should I see a healthcare professional about BV?
If you suspect you have BV, you should speak to your HCP right away. Don't wait for symptoms to go away or self-treat.2,3 Unless you know for sure what you have, there's no guarantee you can treat it properly.3
Some symptoms of BV may seem similar to a yeast infection, for example, but BV is a different kind of infection—one that should be treated with an antibiotic prescribed by a healthcare professional.2,3 That means no DIY fixes from social media, home remedies you saw in a video online, or frantic trips to the pharmacy for an over-the-counter medication meant to treat a totally different condition.
When BV is left untreated
While BV is common and treatable, leaving it untreated can expose you to an increased risk of:
Getting HIV, or transmitting HIV to your partner if you already have it15
Getting sexually transmitted infections (STIs) like herpes, chlamydia, or gonorrhea15
Developing pelvic inflammatory disease (PID), which can threaten your fertility15
Increased risk of preterm birth if you are pregnant15
Your health is important, so BV isn't something to just wait out. If you believe you may have BV or just don't feel right down there, talk to a healthcare professional. They can run tests to help you find out what you're dealing with. If you're diagnosed with BV, ask your HCP if Solosec may be right for you.14
References: 1. Koumans EH, Sternberg M, Bruce C, et al. The prevalence of bacterial vaginosis in the United States, 2001-2004; associations with symptoms, sexual behaviors, and reproductive health. Sex Transm Dis. 2007;34(11):864-869. 2. Harvard Medical School. "Bacterial Vaginosis (Gardnerella Vaginitis)." Harvard Health Publishing .https://www.health.harvard.edu/a_to_z/bacterial-vaginosis-gardnerella-vaginitis-a-to-z. Accessed March 3, 2020. 3. Orenstein BW. Types of vaginal infections. www.everydayhealth.com/news/vaginal-infection-types/. Accessed September 25, 2017. 4. Workowski KA, Bolan GA; CDC. Sexually Transmitted Diseases Treatment Guidelines, 2015 [published correction appears in MMWR Recomm Rep. 2015;64(33):924]. MMWR Recomm Rep. 2015;64(RR-03):1-137 5. Bilardi JE, Walker S, Temple-Smith M, et al. The burden of bacterial vaginosis: women's experience of the physical, emotional, sexual and social impact of living with recurrent bacterial vaginosis. PLoS One. 2013 Sep 11;8(9):e74378. doi:10.1371/journal.pone.0074378. 6. HerHub. Bacterial Vaginosis. NPWH. http://www.myherhub.com/your-health/bacterial-vaginosis. Accessed April 15, 2020. 7. Kumar N, Behera B, Sagiri SS, Pal K, Ray SS, Roy S. Bacterial vaginosis: etiology and modalities of treatment—a brief note. J Pharm Bioallied Sci. 2011;3(4):496-503. doi: 10.4103/0975-7406.90102. Accessed September 18, 2017. 8. Brookheart RT, Lewis WG, Peipert JF, Lewis AL, Allsworth JE. Association between obesity and bacterial vaginosis as assessed by Nugent Score. Am J Obstet Gynecol. 2019;220(5):476.e1-476.e11. 9. Bradshaw CS, Morton AN, Hocking J, et al. High recurrence rates of bacterial vaginosis over the course of 12 months after oral metronidazole therapy and factors associated with recurrence. J Infect Dis 2006; 193:1478–89. 10. American College of Obstetricians and Gynecologists. ACOG Practice Bulletin: Clinical Management Guidelines for Obstetricians-Gynecologists, Number 215. Obstet Gynecol 2020:135(1):e1-e17. 11. Bartley JB, Ferris DG, Allmond LM, Dickman ED, Dias JK, Lambert J. Personal digital assistants used to document compliance of bacterial vaginosis treatment. Sex Transm Dis. 2004;31(8):488-491. 12. Metrogel [prescribing information]. Sellersville, PA: Teva Pharmaceuticals USA; 2005. 13. Nuvessa [prescribing information]. Madrid, Spain: Chemo Research SL; 2017. 14. SOLOSEC [prescribing information]. Baltimore, MD: Lupin Pharmaceuticals, Inc; 2017. 15. Lewis FM, Bernstein KT, Aral SO. Vaginal microbiome and its relationship to behavior, sexual health, and sexually transmitted diseases. Obstet Gynecol. 2017(4);129:643-654. doi:10.1097/AOG.0000000000001932.
What is SOLOSEC?
SOLOSEC® (secnidazole) 2g oral granules is a prescription medicine used to treat bacterial vaginosis in adult women.
How should I take SOLOSEC?
SOLOSEC is a single-dose therapy for oral use. Use SOLOSEC by sprinkling an entire packet of SOLOSEC onto applesauce, yogurt, or pudding. The entire dose should be taken at once, and finished within 30 minutes. Avoid chewing or crunching the granules. SOLOSEC should not be taken by dissolving the granules in any liquid.
Important Safety Information
You should not use SOLOSEC if you've had an allergic reaction to secnidazole, other ingredients of the formulation, or other nitroimidazole derivatives.

Before taking SOLOSEC, tell your healthcare provider about all of your medical conditions, including if you

Are pregnant or plan to become pregnant.

Are breastfeeding or plan to breastfeed. Breastfeeding is not recommended. You should not breastfeed for 96 hours

(4 days)

after taking SOLOSEC.

Vaginal yeast infections may occur with SOLOSEC and require an antifungal treatment

Take SOLOSEC exactly as your healthcare provider tells you to. Do not take SOLOSEC more often than it is prescribed.

The most common side effects of SOLOSEC include yeast infection, headache, nausea, altered taste, vomiting, diarrhea, abdominal pain, and vaginal itching.
Call your doctor for medical advice on side effects. You are encouraged to report suspected side effects of prescription drugs to FDA at www.fda.gov/MedWatch also at 1-800-FDA-1088 or contact Lupin Pharmaceuticals, Inc. at 1-844-SOLOSEC (1-844-765-6732).