SOLOSEC is a single-dose oral antibiotic that provides a complete course of therapy.1

1)
Open the packet and sprinkle the entire contents of the packet onto applesauce, yogurt or pudding


3)
Consume all of the mixture within 30 minutes
DO NOT CHEW OR CRUNCH THE GRANULES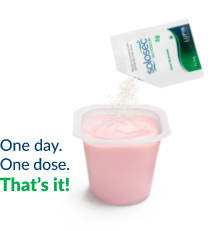 Patients can drink a glass of water after taking SOLOSEC to help with swallowing, if needed. Do not try to dissolve the medication in water or any other liquid.
Avoid drinking alcohol during treatment with SOLOSEC and for 2 days (48 hours) after you take SOLOSEC.
References:
1. SOLOSEC [prescribing information]. Baltimore, MD: Lupin Pharmaceuticals, Inc; 2022.