Get answers to common questions about a bacterial vaginosis (BV) diagnosis.
What happens if BV is left untreated?
BV is treatable and poses little threat to your health if treated promptly.1
Left untreated, BV is associated with serious health consequences.1

See health risks

>
Is BV a sexually transmitted infection (STI)?
BV is not classified as an STI, although there is a link between certain sexual behaviors and getting BV (for example, having a new partner, or multiple partners, or not using condoms during intercourse).1
Women who are not sexually active can still get BV.1

Learn what causes BV

>
Lots of factors can disrupt the vagina's balance and lead to an overgrowth of the bacteria that cause BV.1
Any woman can get BV—even if you aren't sexually active or if you are only sexually active with your partner.1
Some women are naturally more likely to get BV.1

See if you're at increased risk

>
Will I get BV again after it's treated?
Over half of women who are diagnosed with BV and are treated with a 7-day course of treatment will have a recurrence of BV within 1 year.2
Research shows that not completing your full course of multi-day treatment can contribute to recurrence.3


Discover a single-dose treatment

>
The majority of women who took single-dose SOLOSEC didn't need additional treatment for BV.4
What are the treatments for BV?
There are no over-the-counter treatments FDA-approved for BV. You need a prescription from your healthcare provider.5
Prescription options for treating BV include creams and gels that you insert in your vagina, pills you take over multiple days, and SOLOSEC—complete treatment for BV with just one oral dose.1,6


Learn how to take SOLOSEC

>
Is it possible to have BV and trichomoniasis (trich) at the same time?
Yes, it's possible to have both infections. In fact, sexually-active women with BV are 2.4x more likely to have trichomoniasis.7
Women with both BV and trich are more likely to get STIs like herpes, gonorrhea, and chlamydia so it's important to get treated.1,8,9
SOLOSEC is also approved to treat trich in adults. In fact, SOLOSEC is the only single dose oral medication approved to treat both BV and trich.6

Learn about trich

>
SOLOSEC is the only single dose oral antibiotic approved to treat both BV and trich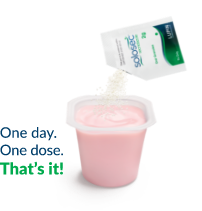 References:
1. Workowski KA, Bachmann LH, Chan PA, et al. CDC Sexually Transmitted Diseases Treatment Guidelines, 2021. MMWR Recomm Rep 2021;70(RR-04):1-192. 2. Bradshaw CS, Morton AN, Hocking J, et al. High recurrence rates of bacterial vaginosis over the course of 12 months after oral metronidazole therapy and factors associated with recurrence. J Infect Dis 2006; 193:1478–89. 3. Marrazzo JM, Thomas KK, Fledler TL, Ringwood K, Fredricks DN. Relationship of Specific Vaginal Bacteria and Bacterial Vaginosis Treatment Failure in Women Who Have Sex with Women. Ann Intern Med 2008;149:20-28. 4. Schwebke JR, Morgan FG Jr, Koltun W, Nyirjesy P. A phase-3, double-blind, placebo controlled study of the effectiveness and safety of single oral doses of secnidazole 2 g for the treatment of women with bacterial vaginosis [published correction appears in Am J Obstet Gynecol 2018;219(1):110]. Am J Obstet Gynecol 2017;217(6):678.e1-678.e9. 5. CDC. Bacterial Vaginosis Fact Sheet. Updated Jun 2017. Accessed 26 Jul 2021. 6. SOLOSEC [prescribing information]. Baltimore, MD: Lupin Pharmaceuticals, Inc; 2022. 7. Balkus JE, Richardson BA, Rabe LK, et al. Bacterial vaginosis and the risk of trichomonas vaginalis acquisition among HIV-1-negative women. Sex Transm Dis. 2014;41(2):123-128. 8. Chavoustie SE, Maribona AS, Hanna M. Bacterial Vaginosis and the Risk for Sexually Transmitted Infections. Contemp Ob Gyn 2020. Educational Supplement. 9. Allsworth JE, Ratner JA, Peipert JF. Trichomoniasis and other sexually transmitted infections: results from the 2001–2004 National Health and Nutrition Examination Surveys. Sex Transm Dis 2009;36(12):738–44.